What You Need to Know About EV Charging

---
Shopping for and maintaining an electric vehicle in the Savannah area does not need to be a difficult or taxing ordeal, especially if you are equipped with the proper knowledge. We at Genesis of Brunswick hope to empower you with the knowledge of how to charge your vehicle, what the different charging styles are, and setting up a home charging station. An electric vehicle is a perfect companion for commutes or weekend errands, so be sure to contact our team if you have any questions or concerns. Learn more by saving with our new vehicle specials with us today.
Three Charging Styles
There are three charging station types that you can expect from your luxury vehicles: 
(Basic) Standard: 120-Volt Portable charge Cord. This can offer up to four miles of range per hour of charge. This is perfect for charging your vehicle overnight. Be sure to plug your vehicle anywhere that has a three-pronged outlet.

(Fast) Available: 240-Volt/32-AMP Charging Unit. This is another option that works best charging overnight. You can get up to 25 miles of range per hour of charge time. It's one of the fastest ways to charge your vehicle, and professional installation is required.

(Super Fast) Available: DC Fast Charging. This is for charging on the go, where you can expect a staggering 100 miles of range in about 30 minutes of charge time. You can find DC fast charging in a lot of public places.
Financing Aspects To Consider Before Buying a New Vehicle
If you are looking for the most cost-effective way to charge your vehicle, then you can charge at home. Below are some financial aspects to consider when switching from a gas-powered car to an EV: 
Look at your electric bill, and then divide the number of kilowatts-hour used into the bottom-line dollar amount to learn how much you pay per kWh.

Electric cars can get three to four miles per kWh, so take the number of miles you drive every month and then divide that number into three. You will then get what you use in kWh each month.

Then multiply that number by the cost per kWh. This will cost less than what you pay monthly to purchase gas for your vehicle at the end of the day.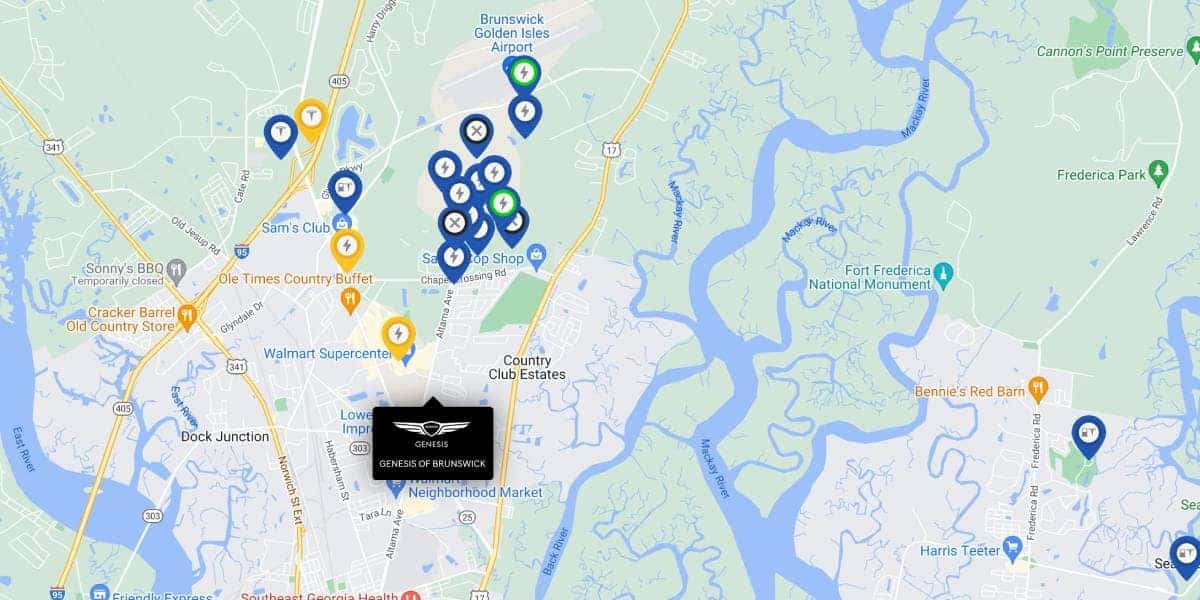 At-Home EV Charging Station Installers
Genesis of Brunswick can get you connected to EV charging station installers in the Charleston or Hilton Head area. Typically, you are expected to pay $700 plus installation fees for an at-home charger. This will eventually be worth the investment when it comes to how much you are saving by not purchasing gas. Contact us, or visit our service center for more information.